Moving always produces mixed emotions. In this case, I'm excited to be going to Pittsburgh to finally finish an academic journey I began in 2001 when I went for my Master's at the University of Maryland. I'm looking forward to the challenges I'm setting for myself as a researcher, thinker, scholar, writer, and student. I'm glad to be back in an environment that, despite all its faults (and there are many) is one which makes me feel most at home and most myself.
But I will also be moving away from some people I have strong attachments to, including my current flatmate and my friend Jen (who actually helped move me to Maryland nine years ago). I'll be further away from Perishable Theatre, an institution that remains near and dear to my heart in many ways. There will be no more Blood from a Turnips for me in the near future.
So, a mixed bag, as most things are in life.
The reality of my move and my journey into a new stage in my life became a bit more tangible this past weekend after I went to Pittsburgh and found a place to live. In about 24 hours, I looked at a number of places and then put my money down on the one I'd decided on even before the drive out there: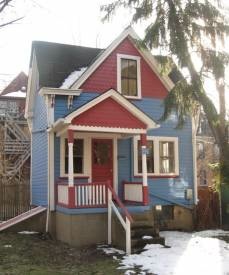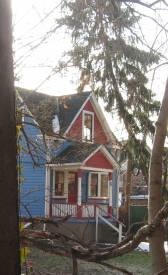 The place is small. Very small. But the whole of the building is mine: kitchen & living room on the first floor and bedroom and bathroom on the second. All new appliances in the kitchen, all new fixtures in the bathroom, the floor will be redone, new windows, a porch . . . and it's mine all mine!!
Yes, a little more than I originally planned, but I think it will be worth it on so many levels and will provide me a nice sense of comfort and home that will serve me well as I undertake the strenuous challenge of the next 4, maybe 5 years. I hope to share my new home with the people I care about, so I look forward to having friends visit and share in my new life at least briefly even if they live far away.
So there you go: my new home.
Yay!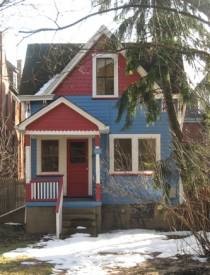 On this day..