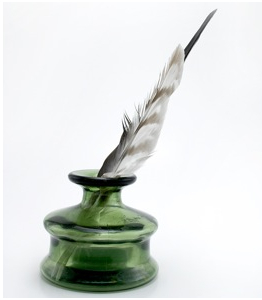 Thursday was my 25th consecutive day of writing at least 250 words. This last week was actually the hardest, in part because I wasn't able to go home and stay home after work on any day other than Thursday. Luckily, 250 words is not all that much, so I was able to keep on track, even when I got home late. What this week did demonstrate to me was that as I increase the number of words in these writing challenges, I will need to be very careful during the week about how much time I spend out at night or, if I know I'll be out late, I need to make sure I get up early enough to do some writing in the morning before going to work.
This past week, I wrote 1326 words, with an average of 331 per day. My total challenge numbers are 9215 words written with an average of 364 words per day. My next challenge, which begins on August 17, will be 300 Words for 30 Days. Considering that almost every day I wrote more than 300 words, I don't think this will pose any problems. Because the week of the 17th will include some travel and visiting friends and family out of state, I'm going to have to be extra diligent that I get the writing done on those days. I may not bring my computer with me on that trip, so I will have to change my writing habit a bit for those days as well – writing by hand or possibly even on my iPhone (which, incidentally, I actually did once during this challenge, writing about 320 words on the iPhone using the WriteRoom app).
I do think it's important to have some sort of visual record of your writing if you are doing a challenge like this. I've written previously about using some form of a "chain" calendar to track yourself. There are a bunch of apps that mimic making a red "X" on each calendar day, but I chose to stay with a simple spreadsheet and filling in each day with a color:

This gives me the ability to have both a visual record of my success, as well as having the daily statistics and word counts as an additional motivating factor.
More important than the numbers of words, however, is the accomplishment that I feel after having set myself a specific, manageable challenge and having met that challenge, even on days when I didn't want to.
So there you have it, my 250 Words for 25 Days Challenge has been successfully met. If you end up trying this, please drop me a comment to let me know about your experience and any tricks or ideas that you come up with.
On this day..