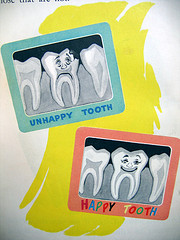 Photo by mucus*plug
Here's the thing folks, if you don't have dental insurance, save up for a yearly cleaning and checkup. Seriously. Because if you don't, like I didn't, you will go to the dentist (in the case DentPlus Dental Center because they are open on Saturday's and I wouldn't have to take time out of work) one day and discover that you need a super-duper cleaning that costs 3 times the regular cleaning ($300), that you need a filling ($190) and that you probably need a root canal ($2000).
Considering that the root canal could have been avoided if I'd caught the cavity in time, that alone is reason for you to find the money and go to the dentist on a yearly basis.
And if anyone knows a dentist in the RI area who could help a non-insured person out with some less costly cleaning and procedures, drop me a line.
Now, get thee to a Dentistry!
On this day..