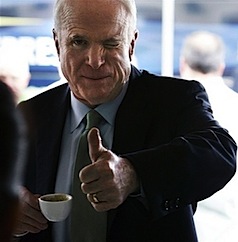 I mean, really?
Q: "So no contraception, no counseling on contraception. Just abstinence. Do you think contraceptives help stop the spread of HIV?"

Mr. McCain: (Long pause) "You've stumped me."

[From McCain Stumbles on H.I.V. Prevention – The Caucus Blog – NYTimes.com]
I have no words for this. The man is dumb as dirt.
On this day..