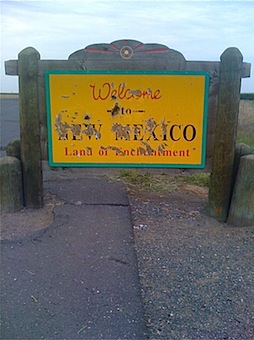 I arrived in New Mexico at high noon yesterday and pulled over and took this picture. Northern New Mexico is very green, lots of cattle ranches, and I must say I was glad to start seeing ridges and mountains in the distance and driving over hills after the flatness that was Kansas. I stopped, briefly, at the general store/gas station (they were out of gas when I stopped however)/restaurant that is the entirety of Gladstone, NM. I walked in wearing khaki shorts, a tan linen button-down shirt, running socks (you know the ankle kind) and sneakers and boy! did I feel out of place as the four old cowboys in their cowboy hats, jeans, long sleeve work shirts and boots looked over my way.
While there, I picked up some beef sticks – basically locally made versions of Slim Jims – and a root beer for lunch. I should have gone for the sarsaparilla to make it more "authentic."
Before I left Kansas, I had done a little research into motels and found a place that offered a room for a month for $330 and figured that I would just drive straight down to T or C, get the room and have a month to explore the area, look for jobs, find a real place to live, etc. However, that was not the case. The place seemed a bit sketchy, the guy who should me the rooms a bit odd and I got absolutely no cell phone reception there (in fact, I get no cell phone reception in the half of T or C that is down in the valley next to the Rio Grande). So I found a nicer motel where I'm staying for a week that is up toward the top of town (this is a place where downtown is literal), and has free internet and I have a kitchen that is bigger than most NY kitchens.
So last night, I was all freaked out that I was going to have to move fast to find a job and an apartment as well as a bit depressed that my perfect plan of showing up and getting a place for a month didn't work out. There was also a bit of sadness that the trip was over because I would have liked to have spent more time exploring and meandering but simply don't have the money to do that. This morning however, I was a bit more resolved, got some groceries and the local paper to look for apartments and jobs . . . and what I saw wasn't very promising. Then I got to thinking about what my goals are, especially my goals of self-employment and finding ways to generate income through my writing and my theatre skills and my teaching abilities and my fertile imagination and my intelligence. While achieving some of these ambitions are going to be difficult anywhere I go, I realized this afternoon that they will be particularly difficult in a small town. Perhaps if I had more resources saved up or an already established independent revenue stream, I could try, but considering what I have and what I need to survive and to have time to write and build up my own business ideas . . . T or C does not really have what I need. Namely, jobs. Well, more specifically for the short term: temp agencies (for necessary money quickly) and a university (for adjunct work in the future, as well as a built in population for getting work as a public speaking and writing tutor/coach). Both of which are present in Las Cruces. After thinking about it for a while, after talking with J and with my Mom, I've decided to take the next few days to explore this area, check out the recreation at Elephant Butte lake and on the Rio Grand, take a dip in one of the famed hot springs that the town was originally named after and then head down to Las Cruces. I've already started emailing with a person who has a room for rent in their house. While taking a room in someone's house is not my ideal situation, and while I will probably look into getting my own place in 4 to 6 months, the room comes with all utilities included, free internet and I will have access to a washer & dryer, a yard, and a covered patio.
I always knew that this was a likely outcome, and am glad that the month rental didn't work out. I'm here at the Belair Motel until Tuesday morning and plan to enjoy my days here as a mini-vacation—one where I'm not driving an average of 10 hours per day—before heading to Las Cruces with the knowledge that even if I'm not living in my "home" just yet, I'm in a part of the country that I've wanted to live in for years and will have the opportunity to explore and learn more about New Mexico in the coming months and years.
So that's where I am right now, both physically and emotionally: Truth or Consequences. I may not be staying here physically for much longer, but I hope I'm learning to live up to my own truths, regardless of where I'm living.
And I leave you with a picture. I saw a storm off to the east as I was driving down route 25, probably about 45 or so miles north of T or C and then a rainbow. In fact, I could see, at the same time, a rainbow and fierce lightning bolts. So I tried to take a picture on my iPhone while driving. It's the most interesting picture I've taken since I left Maryland and skill was nowhere in sight, this was all luck: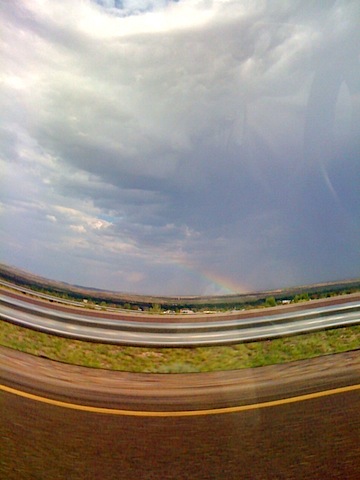 On this day..