Kansas – A Little Creepy With the Flat Plains for Miles & Miles
Maybe it's the New Englander in me, but yeah, Kansas is a bit spooky with the flatness thing especially when dark, lightning-strewn clouds are rising out of the southern horizon like some giant solid wall of darkness and the light to the west & north is still quite lovely and full of sunlight.
Where I stopped for a lunch of cheese & tomato sandwiches on rye bread that I bought at the farmer's market on Sat. in Silver Spring, MD: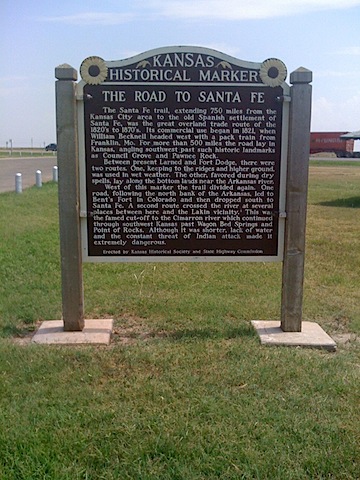 The oh-so-classy add for Pizza Hut at the motel I'm currently in (in Hugoton, KS):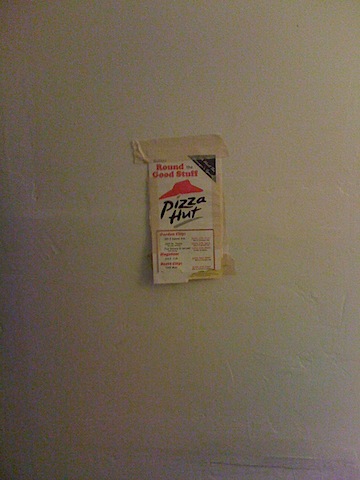 Yes, that's masking tape.
Some quick notes:
I have stayed in two "smoking" rooms in motels over the past several days and have yet to succumb to the occasional desire for cigarettes. Australian Tea-Tree Chewing Sticks ROCK!
After several days of driving, my body is feeling particularly blechy and heavy.
In over the course of two days I listened to Audible.com's production of The Disappeared by Kristine Kathryn Rusch. I enjoyed it, but I don't know if I would have read the book. I think my standards for listening to stories is different the those for reading stories.
The next time I travel, I'm going to have a convenient ceramic mug for making tea in motel microwaves (or get one of those hot water makers that you plug in and then put into a cup of water).
I have decided not to go into Dallas to see a friend and I need to call him tomorrow. I think he'll understand – and we'll only be about 10 hours apart from where I'll be in NM, so I hope to see him soon. But in the end, when I got up this morning and had to make a decision about my route, I just didn't feel right about heading down into a major city right now, when I'm kind of grooving on the quite and solitude (Even if KS is creeping me out a bit). Also, I really wanted to come into NM from the north so I could explore a bit of the state before getting to the T or C/Las Cruces area. If I had come from Dallas, I would have gone in at the south-eastern border, pretty much right near Las Cruces. And I kinda really want to visit Roswell.
Happy Birthday, once more, to Wendy.
What's up with Missouri and all the "Adult" Stores on the highway?
A goodnight serenade:


G'night.
On this day..