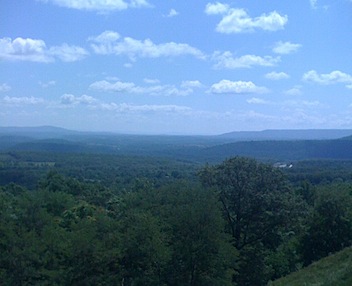 A long day of driving – not quite as long as I'd hoped, and not nearly as far as I wanted to get, (I was hoping to make St. Louis, but ups and downs of the Appalachian mountains in a car without a tremendous amount of pickup slowed me down quite a bit. In addition, with gas prices being what they are, 65 mph is my target speed, even on roads were I could easily and safely be going 75 or 80 (but again, with this particular car I wouldn't really want to do that anyway).
So after about 10 hours and several stops for pee-breaks and a bit to eat along the way, I'm in Centerville, IN at a Super 8 Motel that only cost me $36 and that has free wi-fi.
Last night I saw The Dark Knight with Natalie, and I have things to say about it, but I'm a bit too tired at the moment to go into it all. Yes, Heath Ledger is amazing. Yes, the movie is great. But it's a lot more depressing than I was expecting. More on that some other time, though. For tonight, let me just share some random lines/thoughts/lyrics/words/ideas that I wrote down while getting supper at a Denny's that was in an actual diner-y looking building:
left my pork-pie hat in the steel jungle / as I tracked the sun toward a desert or two / folding Ohio hills backward for West Virginia Appalachians / at the Dennys I at breakfast for dinner as the sun set and a friend sat in darkness way out west / topeka point of decision / wish i'd shared more green & blue with you outside the grey box concrete steel city that you adopted and I loathed / I want to get 5 more hours but the day is bleeding into a streak and the night does not feel friendly this side of the Mississippi / too close to the good-byes, to near to the ones I've left behind in a mad quest for the desert rising in me and the silence of a cool dark space / i am alone / first time in years / miles alone / moments alone / nobody to know my name (except it's on all the credit cards bankrolling this venture) / the toast has about a pound of butter seeping in, sogging the bread / i meant to do things better / meant to keep you happier / this is the part where cigarettes want to be smoked.
Today's iPod Playlist:
G'night.
On this day..