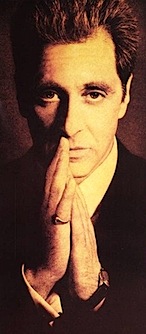 Ok, so maybe Academia isn't quite like La Cosa Nostra, and maybe I'm not quite like Al Pacino as he exclaims "Every time I try to get out, they keep pulling me back in"—in large part because I kinda volunteered for this—but despite the whole leaving academia behind trip that I'm on, I just received confirmation that I am returning to NYC in early November to present a paper at the American Theatre Conference at St. Francis College.
The paper is on the Living Theatre and the narrative that has been created about the IRS seizure of their theatre, the subsequent closing of The Brig and how the Living Theatre was able to use those events—or at least the stories about those events—as a kind of symbolic capital that helped sustain the organization throughout the years. Based on archival research, this is a paper that actually uncovers evidence and facts that have fallen out of the "official" biography of the Living Theatre and constitutes my most original and important work as a researcher and academic. I'm hoping to use the conference as a way to help me refine my ideas and to develop a longer paper for publication.
In fact, a larger number of the books that I'm bringing with me to New Mexico are books that I cite in this paper and that I will be using for the expansion. I'm really proud of the work I've done on this and am glad I get to share it with others at the conference and hopefully will get it published next year.
Unfortunately, I mis-remembered the dates of the conference and my beautiful plan of coming back to the East Coast for the conference and having that merge into Thanksgiving weekend up in Maine with my Grandparents and that weekend culminating with my 20 year high school reunion. I so did not just type "20 year high school reunion" did I? I did. Frak me!
Point being, the conference is November 7 – 9 and Thanksgiving/Reunion is November 27 – 29. Now, maybe, just maybe I'll have banked enough money by then to just take nearly a month and hang out on the East Coast writing and visiting friends and family . . . but somehow I kinda doubt it. So that means flying out twice in a space of twenty days. Missing either event is not an option. Hopefully gas prices will have come down a bit by then and flying will be cheaper, but LtL would certainly not refuse an offer of airline points to help offset the airline costs, as it will be used in the spirit of disseminating knowledge (the conference) or . . . or . . . heck, I have no idea what the reunion will offer. I guess the chance to reconnect with old friends. Unfortunately, the term "old" will be more literal than I might like.
On this day..