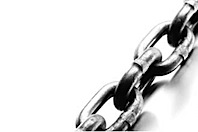 An exciting development in the fight against HIV/AIDS:
Stephen Barr, a molecular virologist in the Department of Medical Microbiology and Immunology, says his team has identified a gene called TRIM22 that can block HIV infection in a cell culture by preventing the assembly of the virus.

"When we put this gene in cells, it prevents the assembly of the HIV virus," said Barr, a postdoctoral fellow. "This means the virus cannot get out of the cells to infect other cells, thereby blocking the spread of the virus."
Last week, EscapePod.org ran one of the best stories they've published so far. It's called "Edward Bear and the Very Very Long Walk." Even if you aren't particularly into science fiction, I highly suggest you take 45 minutes, make a nice cup of tea (or coffee or a nice single malt scotch) and give it a listen. EscapePod is a great audio magazine and has run a number of wonderful stories, even though the quality of their readers is sometimes a bit spotty. (As much as I love the site and what they do for audio storytelling and science fiction, I'm not the biggest fan of Stephen Eley's reading style – in particular, his voices for women always feel forced, breathy and stereotypical.) That said, however, please take the time to listen to "Edward Bear" . . . If you end up feeling like it's a waste of your time, I'll buy you a tea (or a coffee or a nice single malt scotch).
(Link)
I Am Fuel, You Are Friends is a really great music blog and Heather Browne's tastes are eclectic and excellent. I don't head over there nearly as much as I should, but I notices that she has the final night of Wilco's five night residency at the Riviera Theatre in Chicago–where they played, over the five nights, their entire catalog! The set includes Andrew Bird playing violin on a number of songs. If you've never heard Wilco play live, you're missing out on a truly great band! Give 'em a listen.
(Link)
This one's for the Mac users out there: I'm a huge fan of Quicksilver and, like all those other fans, feel like OS X without Quicksilver is sorta like a bicycle without wheels. The creator of QS has a new program that helps reveal a number of hidden preferences called "Secrets. I haven't tried it out yet, but some of the things you can do with it include setting the login window picture, showing unsupported disks in Time Machine (read: Airport disks that should damn well be usable with Time Machine but still aren't), and various dock preferences that are hidden from use non-unix, non-terminal hack people. Of course, messing around with some of these settings might be asking for trouble if you don't know what you are doing, so be careful!
(Link)
Jim White has a new album coming out which deserves it's own blog entry. In the meantime, a kick-ass song from his album No Such Place:
On this day..