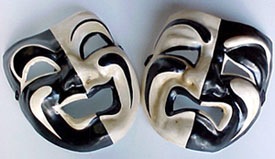 Back in October, I started this ten minute play project and today I've finished the tenth play.
Yay me! (Will be doing some rewrites here and there and then attempting to find directors and theaters to stage them, but at least the heavy lifting is done.)
What's ironic is that this last play has no weird soundscape, no wacky nano-bot disappearances, no bizarre, dreamlike occurrences. This play is simple, bare bones, easy to stage and with a focus on character rather than story or atmosphere. But it was the play I needed to write and so here it is:
On this day..