So I mentioned before that my essay on the Living Theatre's 2007 production of The Brig was to be published in PAJ: A Journal of Performance and Art. Yesterday, I received my copy and it was rather cool to see myself listed in the contents: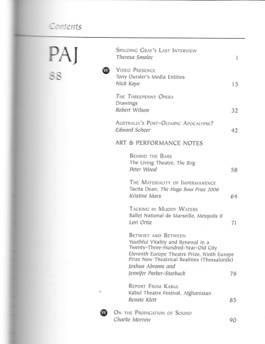 What I did not expect, however, was that I was actually paid for this essay. Not much, only $75, but still quite respectable on a per word basis and, because it was completely unexpected, a rather nice surprise.
And that makes this my first actual sale of my writing.
Neat.
Technorati Tags: paj, living theatre, academic journal
On this day..