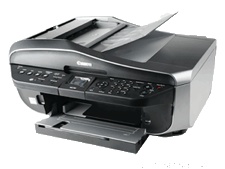 It's been a long time since I've invested any but the most minimal amount of money in a printer. And, as a result, I have spent the past several years dealing with my printers instead of simply using them. The other night, I got fed up with the HP PSC 1510 All-In-One that I had bought sometime in the past year, through Craigslist, for $40. It goes through ink like a . . . printer hungry for ink, the flatbed scanner is slow and can't scan-to-pdf directly . . . indeed, the scanner was mucho unhappio with Leopard in general. I had wanted to do a serious cleaning of the file cabinet by scanning old school papers, some old stories, etc. And I couldn't.
So I spent a bunch of time online trying to figure out what printer to get that would give me the features I needed and at a price I could justify. The Pixma MX700 had it's detractors, but seemed like it would get the job done and Staples had a rebate of $40 on it, so the total would come to $159. Seemed like a good deal, and I found myself remember my first color inkjet printer, an Epson of some model or other, and I think it was probably at least $200 and was only a printer. So I marched myself down to the Staples store, discovered that the rebate was only through a Website purchase, marched myself up to my apartment, did a bit more searching and found the Buy.com had the same printer, with free shipping, for only $134.
Score!
I ordered in Saturday . . . no, Sunday. It was here by Tuesday.
Setup: Basically, a breeze. Take the orange tape off all the various doors and trays, insert the printer head (a simple sliding in process), insert the print cartridges (one black, three separate colors and all came included with the printer). Plugged the usb cable into my MBP (running OS X 10.5), installed the drivers and software, set the printer up to operate over LAN, unplugged the usb and plugged the printer into one of the ethernet ports on my Airport Extreme. Finding the printer was pretty simply, as was finding the scanner. The first print job was crooked, so I had to manually adjust the print head – which is not so much manual as pressing a few buttons and comparing a sheet of printed squares to see which has the fewest white lines printed.
Use: Printing wireless is a peach. No problems so far and it's great to be able to print from anywhere in the apartment. Downside is that there will be a tendency to leave the unit on all the time, which is not a good use of electricity. Scanning is a little twitching on my computer, and I had to download an updated scanner program because of Leopard. Sometimes when I push the scan button on the printer, it will think, attempt to scan, and then do nothing. But when it does scan properly, it's fast and so convenient. The scanning program automatically creates a folder in your "Pictures" folder and saves scans based on date. With the HP the image folder was buried deep in the hierarchy of HP's folders, so this is a much clearer and cleaner place to put the scans.
While I haven't put it through any serious tests, I am very happy with it's performance so far. I created some graphic intensive thank you cards tonight and the prints, while perhaps not the best in the world, are certainly good enough for my purposes. The layout of the printer itself is intuitive and I love the Auto Document Feature for scanning – can't imagine going back to a regular flatbed scanner ever!
If you are in the market for a decent but inexpensive printer and want to take a few steps up from "cheap," and if you want decent printing with very easy and convenient networking, I would recommend the MX700.
Technorati Tags: pixma, canon, mx700, all-in-one, printer, scanner
On this day..