We arrived in Honolulu at around 7 pm, after 10 hours of flight time. Hungry and very tired. Picked up the car at Enterprise–a Saturn Ion–and then headed over to the Sheraton Princess Kaiulani hotel. Once settled we looked at the room service menu and decided NOT to pay $17 for a sandwich, and so headed out to find decent, relatively inexpensive dinner. Waikiki is busy and I am very glad we are not staying there more than one night. Tourists and loud and crowded. Some very silly street performers, a gorilla dancing around, those statue people spray painted and holding still, musicians, etc. We ended up going to a restaurant in a food court and both got fish sandwiches and a local ale. The sandwiches were good, but the fish was a little dry and the ale was decent.
Then we were definitely ready for bed!!
In the morning we got up around 7 and lazed about for a bit, leaving the hotel at 8:30 with a plan to drive over the mountains to the east side of the island and then up Rt. 83 as it followed the coast.
We got a little bit turned around when leaving the hotel and weren't able to find the diner we originally planned to eat breakfast at, but ended up at a Kenny's restaurant where we had crab & shrimp omelets. We then headed north on Highway 1 then east on Highway 3, going through the mountains and over to the east coast. The drive was lovely, but I only stopped for a couple of photos that didn't come out very well: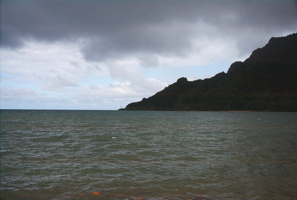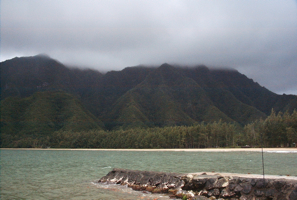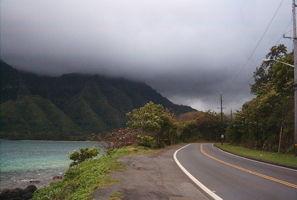 These pics don't do the drive justice, and although it rained several times, the sun would always come back out and the sky and the ocean would be a brilliant blue. One of the highlights of the day, however, was the food. I had been told that we must stop at Giovanni's Shrimp Truck. For $12 you get a plate of 12 shrimp and two scoops of rice. The shrimp was amazing. We had the shrimp scampi and the garlic in it would have slayed a whole flock of vampires. I also couldn't help trying their garlic hot dog, which is made in the same water as the shrimp are cooked. Very very yummy!
We then headed back toward Honolulu to get our Aloha Airlines flight to Kauai. This is the view from our lanai: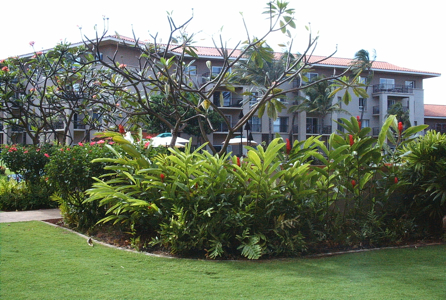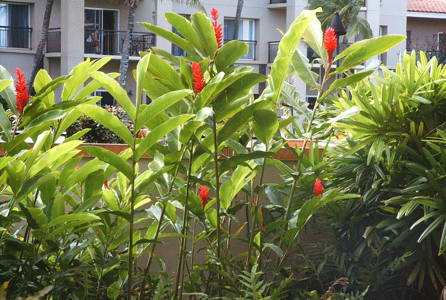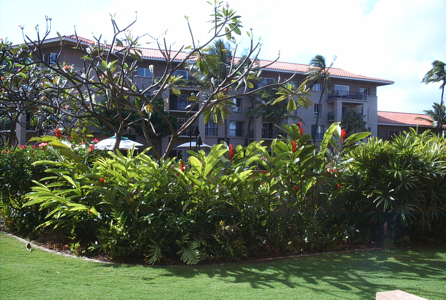 I hope to catch up with our activities sometime tomorrow, but for now, I'll leave you with one of my favorite pics of the trip so far: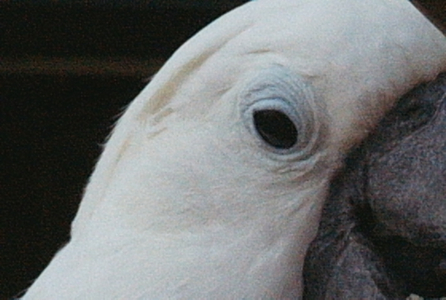 On this day..