Got the proper keys, did some painting, had a maid service do a thorough cleaning of the kitchen, bathroom & living room (that was J's V-day present), and took a few pictures of the place:
The Bedroom:
The 1/2 room: my "office:"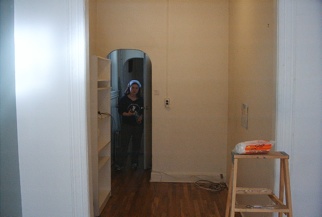 The Living Room: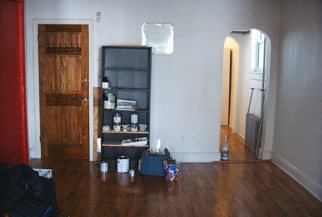 The Kitchen: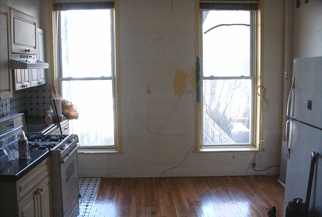 The cool looking building that is behind ours (I'm hoping to get some nice pictures of that place if it's hit by the proper light):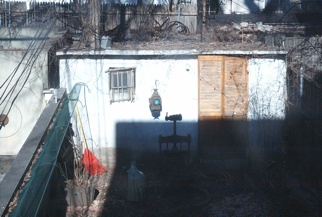 Among some of the things left to do – painting, figuring out the door situation between the hallway and my office, getting blinds and curtains for the bedroom windows and for the kitchen windows.
Oh and then there's the whole packing and moving thing too as well as notifying utilities. Somewhere in there this week we also need to do laundry and go to the store.
Observation:
I found that I don't like painting because I don't think I do a good enough job. Once done, I don't mind if there are a few small mistakes here or there like a dab of paint on the ceiling or a slightly uneven line at a corner so that one wall bleeds over onto the other a little (we don't paint walls the same colors 'round here, nosiree-bob!). But when I'm actually in the process of doing the painting, my inability to be perfect is annoying.
Currently Listening: The Frames – Rise
On this day..